Features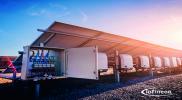 Benefits of CoolSiC MOSFETs in Bi-Directional Inverter Applications - July 2021
With the move to renewable energy, there is an increased focus not only on generation but also storage, to make the most of the intermittent supply from wind and solar. Batteries are the common...
More details...
Power Electronics Europe News
Power MiniLEDs handle up to 70mA for automotive use
A series of power MiniLEDs in 2.3x1.31.4mm SMD packages has been announced by Vishay Semiconductors. The VLMx234xx devices use AllnGaP technology and provide typical luminous intensity of 3500mcd and maximum luminous intensity of 4900mcd at 70mA. They also, says the company, improve thermal performance compared to previous-generation LEDs.
Thermal resistance junction/ambient is 325k/W and power dissipation up to 200mW, which enables high drive currents up to 70mA. The size and luminous intensity make them suitable for automotive applications. The AEC-Q101 qualified are available in super red, red, amber, and yellow for interior and exterior lighting, dashboard illumination, indicators and backlighting for A/V and industrial equipment, LCD switches and symbols and illuminated advertising.
They have a ±60° angle of half-intensity and a luminous intensity ratio per packing unit of less than 1.6, and are available in 8mm tape. They are compatible with IR-reflow soldering processes and pre-conditioning according to JEDEC Level 2a, and offer an ESD-withstand voltage up to 2kV according to JESD22-A114-B.
View PDF