Features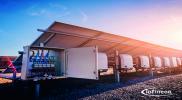 Benefits of CoolSiC MOSFETs in Bi-Directional Inverter Applications - July 2021
With the move to renewable energy, there is an increased focus not only on generation but also storage, to make the most of the intermittent supply from wind and solar. Batteries are the common...
More details...
Power Electronics Europe News
High capacity industrial battery is for UPS
Suitable for use in UPS and similar high discharge rate applications, the battery typically provides up to 40% extra high-rate discharge capacity when compared with standard NPL series batteries.
Nominal 10hr rate capacity is 140Ah to 10.8V at 20°C with 10min rate constant power of 4250W to 9.6V at 20°C. Standby life expectancy is up to 10 years (design life at 20°C) and EUROBAT classification is high performance, 10 to 12 years.
The battery features a UL94HB ABS case material as standard with flame retardant option available for UL94V0 applications. The battery can be installed and operated in any orientation except permanently inverted and complies with IEC61056 and IEC60896-21/22. Case dimensions are 341 x 173 x 281mm with typical mass of 49kg.
Operating temperature is -15 to 50°C (charging) and -20 to 60°C (discharging). Optimum storage temperature in fully charged condition is from -20 to 50°C. Additional specifications include low self-discharge characteristics during storage, maximum discharge current of 840A for 1s or 420A for 1min and impedance of 2.7mΩ measured at 1kHz.
View PDF