Features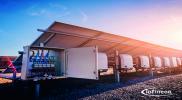 Benefits of CoolSiC MOSFETs in Bi-Directional Inverter Applications - July 2021
With the move to renewable energy, there is an increased focus not only on generation but also storage, to make the most of the intermittent supply from wind and solar. Batteries are the common...
More details...
Power Electronics Europe News
AC/DC power supply achieves 92% efficiency at 50% full load
The D1U86G, 460W front end power supplies from Murata Power Solutions achieve a minimum conversion efficiency of 92% at 50% full load. They measure 86x196.9x39.9mm.
The level of efficiency is claimed to significantly lower the host system cooling requirements and also contributes to power savings in end applications.

There are two models, both providing a 12V DC, 460W output with either back-to-front or front-to-back direction of airflow. They also accommodate the universal AC input range from 90 to 264V AC. Forced air cooling is provided by an internal variable speed fan. Operating temperature is 0 to 50ºC, without any derating due to line input or temperature.


Other features are hot-swapping and hot plug capability and droop current sharing for up to eight supplies to be connected together.
Safety features include output overvoltage, output overcurrent, and self-resetting overtemperature protection. PMBus management and I²C
interface with status indicators and boot loading are also available. MTBF is 635k hours.

The supplies comply with international safety standards IEC/EN/CSA/UL/CB.

View PDF