Features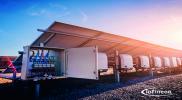 Benefits of CoolSiC MOSFETs in Bi-Directional Inverter Applications - July 2021
With the move to renewable energy, there is an increased focus not only on generation but also storage, to make the most of the intermittent supply from wind and solar. Batteries are the common...
More details...
Power Electronics Europe News
APEC 2014 - Fort Worth, Texas 16-20 March
More Power in 2014
APEC 2013 in Long Beach/California closed with a record of nearly 4,000 delegates ( 27 %) and
187 exhibitors, making it one of the greatest power electronics conferences and showing the
increasing interest in the role of power electronics for energy efficiency. Wide bandgap
technologies such as SiC and GaN were of major interest, and this will continue in the 2014 event
from March 16-20 in Fort Worth/Texas.
APEC 2014 will start on March 17 afternoon with the plenary session, traditionally a number of
speeches highlighting the actual subjects of power electronics within the conference, before the
exhibition opens within the late afternoon. Already on March 15/16 tutorials will be offered.
View PDF