Features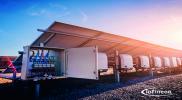 Benefits of CoolSiC MOSFETs in Bi-Directional Inverter Applications - July 2021
With the move to renewable energy, there is an increased focus not only on generation but also storage, to make the most of the intermittent supply from wind and solar. Batteries are the common...
More details...
Power Electronics Europe News
Low RDS(on) MOSFETs from Toshiba target Li-Ion battery packs
Power saving n-channel MOSFETs from Toshiba Electronics Europe now include the SSM6N951L. The 12V common drain MOSFET uses the company's power semiconductor process expertise and IP for what are described as industry-leading operational performance parameters.
The MOSFET is specifically intended for inclusion in the battery protection circuitry incorporated into the Li-Ion battery packs. It has a low on resistance of 4.6mΩ maximum at a VGS of 3.8V and minimal gate source leakage current of 1μA maximum at a VGS of 8V. These characteristics mean that the power discrete device presents much lower thermal characteristics than competing devices, says the company. This allows higher density products to support quicker charge rates during the battery packs' charge/discharge cycles. It is also claimed to increase reliability and operational lifespan.
These MOSFETs are shipped in low-profile TCSP6A-172101 packages, measuring 2.14 x 1.67 x 0.11mm, suitable for today's space-limited battery powered equipment.
View PDF