Features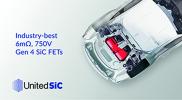 A New Approach to Circuit Breaker Design Using Silicon Carbide Switches - Nov 21
Mechanical circuit breakers can be low cost with minimal losses, but they operate slowly and wear out. Solid state versions overcome the problems and are becoming increasing viable as replacements at...
More details...
Power Electronics Europe News
Empower Semiconductor announced they have achieved the world's fastest transient response times in the Integrated Voltage Regulator family of Power Management devices...
Power Integrations adds LNK3207 to its LinkSwitch family to enable higher power offline buck converter designs...
Rectifiers in the AlphaZBL family target high power adapters and power supplies, says Alpha and Omega Semiconductor (AOS)...
Infineon Technologies has combined a 50A Trenchstop 5 fast-switching IGBT and a CoolSiC Schottky diode for a hybrid device...
The CBI series of DIN rail mount DC-UPS from Italian manufacturer, Adel Systems, is now available from Relec Electronics...
SiC enables conversion efficiencies of up to 99.5 % at smaller size and weight...
Efficient Power Conversion (EPC) expands its AEC Q101 range with the EPC2219 which has an integrated reverse gate clamp diode...
Advanced Energy offers a 48V DC-input power supply designed for compute, storage and networking applications...
Supplied in a 16th brick, the PKU4913D has been added to the PKU-D series. It is aimed primarily at telecomms applications....
Volvo Cars' first pure electric SUV — the XC40 Recharge — will feature ADI's ICs for BMS and Audio...