Features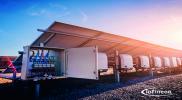 Benefits of CoolSiC MOSFETs in Bi-Directional Inverter Applications - July 2021
With the move to renewable energy, there is an increased focus not only on generation but also storage, to make the most of the intermittent supply from wind and solar. Batteries are the common...
More details...
Power Electronics Europe News
The SSM6N951L is designed to enhance operation in Li-Ion battery packs of portable consumer hardware....
TDK's medical/industrial 15W and 20W DC/DC converters are certified to IEC 60601-1 and IEC 62368-1 standards....
The RPX-1.0 and RPX-1.5 are for industrial and motor control, ATE, medical, imaging and high-density power systems...
Novel MinE-CAP device from Power Integrations reduces the input bulk capacitor size and in-rush current ...
The RV-3032-C7 temperature-compensated module operates across the industrial temperature range at low current consumption....
The EPC9148 and EPC9153 boards are based on eGaN FETs to develop ultra-thin, high density computing products....
The AOZ8S212UD4, AOZ8S321UD4, and AOZ8S306BD4 transient voltage suppressors (TVS) are for high-speed line protection....
Littelfuse's SP1250-01ETG provides 50A high surge resistance, with low clamping performance to protect consumer devices....
Adding NVM to DACs eliminates processor overhead experienced at power up in portable and handheld devices, claims the company...
The PS508 and PS509 multiplexers from Diodes support industrial IoT applications which use multiple sensors....