Features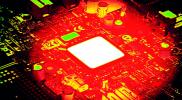 Integrated Battery-Charging Solution with Power Path Management - issue 5/2019
A new single coil power management IC with flexible configuration, rich functions and high efficiency integrates as many analog circuits as possible...
More details...
Linear voltage regulators operate at automotive temperatures
Designed for high reliability, high temperature applications, the CMT-Antares is Cissoid's latest regulator.
More details...
Power Electronics Europe News
The EPC2206 and EPC2212 eGaN FETs meet the growing need for lidar, radar, camera and ultrasonic sensor systems in vehicles....
Cooling solutions and advice can be found at the Rogers Corporation, Power Electronics Solutions stand ...
Offering a wide input range, the REC15E-Z 15W isolated DC/DC converters is available from Recom in a 25 x 25mm footprint....
Wearable and IoT devices can enjoy extended battery runtimes using the power management IC from Maxim Integrated Products....
Torex Semiconductor has launched the XDL601/XDL602 DC/DC converters. They AEC-Q100 compliant for automotive use....
DC/DC converters from Recom are certified to the emerging IEC 62368-1 safety standard. ...
The first in a series of bidirectional TVS diode arrays (SPA diodes) has been announced by Littelfuse....
Osram and GaN Systems introduce a laser driver with high-power, multi-channel for Lidar use in vehicle safety systems....
Transistors from STMicroelectronics are efficient in medium-power resonant and hard-switching converter topologies...
Claimed to deliver industry-leading TCR characteristics, Rohm introduces high power wide terminal thick-film chip resistors....