Features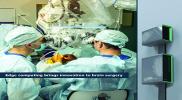 Edge Computing Leverages Modular Power in Scalable Micro Data Centres - May 2022
Edge computing is essential to realizing the full potential of artificial intelligence (AI), machine learning and internet of things (IoT). These technologies are being infused into every corner of...
More details...
Power Electronics Europe News
The LHP150F and LHP300F have a peak power capability of 200% for industrial applications, says Cosel...
Combo ReDrivers from Diodes support Microsoft's power saving requirements for personal and industrial PCs...
The Vishay Dale IHLP-2020CZ-8A high temperature IHLP low profile, high current inductor is supplied in a 2020 case size...
The AOZ97774QE supports 5G wireless, networking, optical communications and general purpose DC/DC applications....
Easing the transition to high-efficiency wide-bandgap technology, STMicroelectronics has released the MasterGaN3 and MasterGaN5 integrated power packages for applications up to 45W and 150W, respectively...
ST and Cree/Wolfspeed announced on August 17 the expansion of an existing multi-year, long-term silicon carbide wafer supply agreement...
Designed for light vehicle generators the diode is produced by Bosch and based on Infineon's integrated chip technology...
The TPHR7404PU reduces EMI in switching power supply application, says Toshiba Electronics Europe...
The latest member of the Qspeed diode portfolio can replace SiC parts in automotive applications with performance & cost bene...
Microchip and Clean Sky consortium have developed three aerospace-qualified baseless modules to reduced aircraft emissions....