Features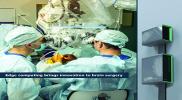 Edge Computing Leverages Modular Power in Scalable Micro Data Centres - May 2022
Edge computing is essential to realizing the full potential of artificial intelligence (AI), machine learning and internet of things (IoT). These technologies are being infused into every corner of...
More details...
Power Electronics Europe News
Integrated flyback switcher IC family can be configured to 1200VBUS
The InnoSwitch3-AQ family of integrated flyback switcher ICs provides greater headroom for 400 and 800V electric vehicle (EV) inverter, battery management and climate-control applications.
The switcher ICs combine a MOSFET, primary and secondary controllers as well as Fluxlink reinforced isolated feedback in a single IC.
They also have a 900V primary MOSFET, which allows for safe and reliable operation during system voltage transients and also reduces the number and cost of input filter components. The increased BV rating enables output voltage regulation from 30 to 700VBUS in standalone form and may be configured for 1200VBUS applications when used with optional StackFET circuitry.
The Fluxlink feedback provides both precision and longevity, says the company, eliminating the reliability/performance trade off implicit in opto and winding-sensed alternatives.
The switcher ICs achieve up to 90% efficiency across the load range and consume less than 15mW under no-load conditions. They operate down to 30VDC, enabling automotive designers to use the part in emergency power supply applications. T
Design examples are available via the website. The InnoSwitch3-AQ family is available from Power Intergrations and distributors Mouser and Avnet.
View PDF