Features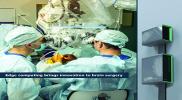 Edge Computing Leverages Modular Power in Scalable Micro Data Centres - May 2022
Edge computing is essential to realizing the full potential of artificial intelligence (AI), machine learning and internet of things (IoT). These technologies are being infused into every corner of...
More details...
Power Electronics Europe News
Low airflow medical configurable power supply series
The power supplies are mechanically designed for effective cooling with a low 1m/s airflow, reducing acoustic noise. Based on the earlier XMS500 series, models additionally include an ATX power good signal, full power at 85V AC input, extended 20ms hold-up time and compliance with EN 60601-1-2 immunity.

The XMS500A is certified to both medical and industrial safety standards and meets EN 55011-B and EN 55032-B radiated and conducted emissions in protection Class I or Class II (no earth ground wire) applications. Target applications include home healthcare, hospital equipment, imaging and clinical diagnostic systems, industrial, test and measurement and communications equipment.
The configurable power supplies have options for standby voltages, and case options which engineers can select to optimise system design and lower cost without requiring a modified standard to be developed, says the company. Options include 5.0 and 12V standby voltages, a fan supply voltage, case options (including a built-in fan), remote on/off, reduced leakage / touch current, AC fail, and single or dual input fusing. Standard output voltages of 12, 24, 36 and 48V are available. Additional voltages and options are also offered.
Operation is from 85 to 264V AC and the power supplies withstand 300V AC surges for five seconds. They can deliver full power in ambient temperatures up to 50°C with linear derating to 50% load at 70°C. The open frame configuration measures 102 x 180 x 37mm and the U channel is 107 x 180 x 39.5mm.
All models are safety certified to IEC/EN/ES 60601-1, IEC/EN/UL 62368-1, 60950-1, designed to meet IEC 61010-1 and IEC 60035-1 with CE marking for the Low Voltage, EMC and RoHS Directives. The series also complies with the EN 61000-6-3, IEC 60601-1-2, IEC 61000-4 emissions and immunity standards. Input to output isolation is 4,000V AC (2 x MoPP), input to ground isolation 1,500V AC (1 x MoPP) and output to ground isolation is 1,500V AC (1 x MoPP) for B, BF and BFD rated equipment.
View PDF