Features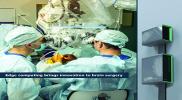 Edge Computing Leverages Modular Power in Scalable Micro Data Centres - May 2022
Edge computing is essential to realizing the full potential of artificial intelligence (AI), machine learning and internet of things (IoT). These technologies are being infused into every corner of...
More details...
Power Electronics Europe News
Bi-directional DC/DC converter has 98% conversion efficiency
The DC/DC converter is designed for data centres, super computers, and other high-tech systems, which need high efficiency power, says the company. It has high power density of up to 3,000W/inch3 with a small footprint of 23 x 17.4 x 10mm and up to 98% conversion efficiency.

According to a forecast in the CISCO 2020 Annual Internet Report, the development of 5G technology and onboard AI for e-vehicles is estimated to add 20 ~ 30% to the annual growth rate of data centres during 2020 to 2025.

In addition, the impact of the COVID-19 pandemic has boosted on-line activities for recreation, commerce, technology, and many industries. Together with an increase in social media platforms, online games and remote working / studying, there has been an increased need for efficient, reliable data centres. Building more increase power consumption so many suppliers are looking for high efficiency, high power density solutions to upgrade equipment.

"We are seeing a significant increase in the requirement for 48V / 12V bi-directional DC converters, especially the AI computing cards," said Dr. Wei Tang, R&D Director of the DC/DC converter business unit . "The U50SU4P162 converts 48V into the intermediate bus voltage required by the downstream voltage regulator. It can also convert 12V into 48V to power the downstream system to satisfy the needs of different power systems," he explained.

The U50SU4P162 DC/DC converter provides 48V / 12V bi-directional conversion, 800W output power, and 1MHz switching frequency. The high power density allows the DC/DC converter to achieve 98% power conversion efficiency in a compact size while handling large load capacitance (up to 10,000µF). The design also includes a double-sided heat sink and low thermal resistance, says Delta.

The DC/DC converter's PMBus (power management bus) protocol allows the converter to transmit power data to system controllers for efficient monitoring and management. Delta also offers customisation services for power configuration and optional heat sinks.



View PDF