Features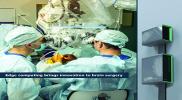 Edge Computing Leverages Modular Power in Scalable Micro Data Centres - May 2022
Edge computing is essential to realizing the full potential of artificial intelligence (AI), machine learning and internet of things (IoT). These technologies are being infused into every corner of...
More details...
Power Electronics Europe News
Buck DC/DC converters are designed for IoT power demands
The power supply ICs support the high voltages and currents in factory automation equipment which use the IoT, such as PLCs / inverters and battery-driven applications and advanced industrial equipment such as 5G basestations. The compact ICs deliver large currents for operating multiple functions and can withstand high voltages to prevent damage from sudden surges (i.e. due to lighting).
The non-isolated DC/DC converter ICs use proprietary analogue design technology based on high voltage BiCDMOS power processes. The BD9G500EFJ-LA 80V withstand voltage for 48V power supplies delivers 5A, claimed to be the largest output current in its class. Suitable applications are servers, charging stations and 5G basestations, which demand reliability.
The BD9F500QUZ is designed for 24V power supply systems and is suitable for 12V to up to 48V battery driven applications such as surveillance cameras and factory automation equipment such as PLCs and inverters. Nano Pulse Control has fast transient response and provides 39V withstand voltage and 5A output current. The DC/DC converter is supplied in a compact, low profile package (3.0 x 3.0 x 0.4mm). It includes over-current protection where SEL1 / SEL2 pins can be selected.
View PDF