Features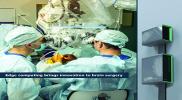 Edge Computing Leverages Modular Power in Scalable Micro Data Centres - May 2022
Edge computing is essential to realizing the full potential of artificial intelligence (AI), machine learning and internet of things (IoT). These technologies are being infused into every corner of...
More details...
Power Electronics Europe News
PMIC boost converters directly power medical and wearable devices
The AEM10900, AEM10300 and AEM30300 are dedicated to charging rather than power delivery and charging storage elements (e.g. Li-Ion batteries), as is the case with the company's existing PMICs. This means they are a simpler implementation and can be used in designs where there are space or cost constraints.
They achieve zero quiescent current draw from the battery which means that if energy harvesting stops for a prolonged period of time, stored energy will not be wasted supplying the PMIC.
The integrated AEM10900 PMIC boost converter is optimised for solar-based energy harvesting implementations, working with a single cell photovoltaic panel. It has fast maximum power point tracking (MPPT) which allows it to get the most energy from the ambient illumination available. It also has a 250mV cold start capability, enabling it to commence charging the battery even when light intensities are very low. An I2C interface minimises the pin count while increasing the potential configurations, says e-peas. The converter also includes battery thermal protection, a joule counter to inform the user how much energy has been harvested. Target applications are wearable consumer products and body-worn medical monitoring equipment.
The AEM10300 and AEM30300 both have built-in low power DC/DC converters for operation over 100mV to 4.5V input. Adaptive energy management ensures the devices automatically switch between boost, buck-boost and buck operational configurations to maintain optimal energy transfer between inputs and the storage element.
The AEM10900, AEM10300 and AEM30300 battery chargers PMICs only require three external components which contributes to a low bill of materials, while also minimising board space.
The AEM10300 and AEM30300 are supplied in a 28-pin QFN package format, measuring 4.0 x 4.0mm and the AEM10900 is available in either the 28-pin QFN package or a 16-pin WLCSP (2.0 x 2.0mm).
View PDF