Features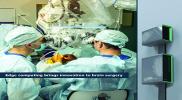 Edge Computing Leverages Modular Power in Scalable Micro Data Centres - May 2022
Edge computing is essential to realizing the full potential of artificial intelligence (AI), machine learning and internet of things (IoT). These technologies are being infused into every corner of...
More details...
Power Electronics Europe News
Integrated automotive LED backlight driver saves space but sustains brightness
The single chip LED driver has an integrated boost converter which eliminates the need for an external MOSFET and current sense resistor. An I²C communication interface is for display settings and diagnostics.
The LED driver has four 120mA channels for high efficiency (91%) 2.2MHz operation. It retains full, constant brightness of in-car displays even during extreme cold crank conditions down to 3V input voltage, says the company. In-cabin features like display illumination when someone enters the vehicle can be affected by cold crank / start-stop situations, as the engine draws down the car battery to cause the display to turn off and back on. The MAX25512 LED backlight driver operates down to 3.0V after start up without the addition of a pre-boost converter, protecting displays from these power disruptions.
The driver also has a hybrid dimming function to reduce EMI and improve the dimming ratio.
Diagnostic functions such as short to ground on each current sink alerts the microcontroller and individual channel pulse width modulation (PWM) settings through the I²C interface.
In addition to lowering the bill of materials, the LED driver reduces board space by 30 per cent, says Maxim.
The MAX25512 is offered in a small 24-pin, 4.0 x 4.0 x 0.75mm quad flat no-lead (QFN) package.
The backlight LED driver and accompanying MAX25512EVKIT# evaluation kit are available now.
View PDF