Features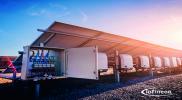 Benefits of CoolSiC MOSFETs in Bi-Directional Inverter Applications - July 2021
With the move to renewable energy, there is an increased focus not only on generation but also storage, to make the most of the intermittent supply from wind and solar. Batteries are the common...
More details...
Power Electronics Europe News
GaN Systems releases reference design for GaN chargers
G
aN is popular in consumer electronics for smaller, lighter, more energy-efficient and faster charging, explains the company. The reference design is supplied with an operating charger and design documentation, for ease of implementation. It is claimed to reduce time to market, with fewer redesigns, PCB respins and testing.
GaN technology also offers extremely high switching speed, low on-resistance, and zero reverse recovery.
This GaN-based reference design is claimed to exceed many designs, and offer a better alternative to multi-chip, monolithic solution, and other discrete solutions.
The reference design has 90 to 265V, 50/60Hz input with output via USB-C of 5.0V, 3.0A, 9.0V, 3.0A, 12V, 3.0A, 15V 3.0A, 20V, 3.25A and 65W max. Power density (with case) is 18.5W per inch3.
There is also over-voltage, over-current, short circuit and open loop protection. The reference design is certified to CISPR22 Conduction and Radiation Class B for EMI.
View PDF