Features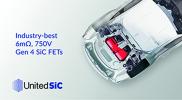 A New Approach to Circuit Breaker Design Using Silicon Carbide Switches - Nov 21
Mechanical circuit breakers can be low cost with minimal losses, but they operate slowly and wear out. Solid state versions overcome the problems and are becoming increasing viable as replacements at...
More details...
Power Electronics Europe News
150V MOSFETs have high SOA for 48V hot swap telecomms
They also have a high safe operating area (SOA) capability, designed for telecomms hot swap applications, for reliable operation. The MOSFETs have a maximum junction temperature of up to 175°C. They limit high in-rush currents in soft-start, eFuse and other hot swap conditions to protect the load.
The MOSFETs are supplied in a TOLL package which offers a 30% smaller footprint than a TO-263 (D2PAK) package. According to the company, the package's clip technology ensures a higher current capability. In particular, the AOTL66518 has a very low thermal resistance from silicon junction to the bottom of the package case (Rthjc) compared to TO-263. The package is designed to reduce the number of MOSFETs used in parallel in telecomms designs.
The reliable, robust linear mode performance MOSFETs meet the demanding requirements of telecomms applications, with high SOA and low on-resistance, says AOS.
The AOTL66518 and AOB66518L are immediately available in production quantities with a lead-time of 16 weeks.
View PDF