Features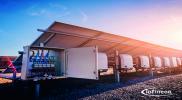 Benefits of CoolSiC MOSFETs in Bi-Directional Inverter Applications - July 2021
With the move to renewable energy, there is an increased focus not only on generation but also storage, to make the most of the intermittent supply from wind and solar. Batteries are the common...
More details...
Power Electronics Europe News
Nano Cap extends Nano technology family
Nano Cap is desigend to reduce the number of exteneral capacitors required for linear regulators. It provides stable control of linear regulator output by improving response in analogue circuits while minimising parasitic factors related to wiring and amplifiers. In this way it is possible to reduce the output capacitance to less than 1/10th over conventional solutions, claims the company.
In a circuit, typically comprised of a linear regulator and microcontroller, one µF capacitor is usually required at the output of the linear regulator while 100nF is requested at the input of the microcontroller. Using a linear regulator with Nano Cap technology eliminates the need for the capacitor at the regulator output and ensures stable operation using just the 100nF input capacitor.
Operational amplifier (op amp) samples using Nano Cap technology have already been released, and the company says it will release linear regulators using Nano Cap technology and LED drivers with built-in Nano Cap-equipped regulators later this year.

Nano Cap technology joins the technology portfolio of Nano Pulse Control (high-speed pulse control technology) and Nano Energy (low current technology). The company has also announced that it will develop the technology to other analogue ICs.

Rohm Semiconductor is taking part in PCIM Europe 2020 (7 - 8 July). Registration for this year's virtual exhibition and conference opened 1 July.
View PDF