Features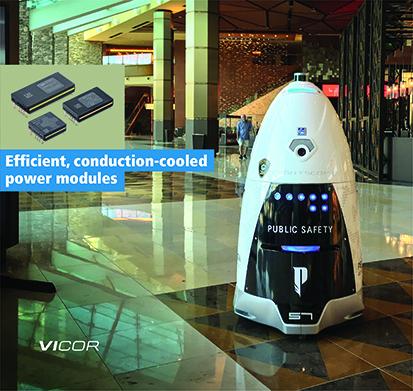 Knightscope's autonomous security robots patrol with superhuman acuity and detection prowess - May 2023
A fusion of innovative robotics, self-driving technology, vehicle electrification and artificial intelligence
More details...
AC/DC power factor correction module offers up to 1,512W
A full brick package developed by TDK-Lambda, the PF1500B-360, is for high voltage distributed power architectures
More details...
Power Electronics Europe News
Discrete transistors, based on GaN technology, by NXP enable small, lightweight 5G radios for urban/suburban deployments...
An all-in-one secure storage subsystem includes key provisioning for consumer and automotive systems for the latest standard....
The 1200W rated OFI1200A AC/DC power supply for industrial applications has been released by Powerbox....
U-MOSX-H process reduces losses and voltage spikes in the TPH9R00CQH MOSFET, says Toshiba Electronics Europe....
The Diatom (NH16D3045) is a high-performing energy harvesting power management IC (PMIC), says Nowi....
Rohm says the power supply technology improves the load transient response characteristics of switching regulators and LDOs...
Recom has introduced the RAC10E-K/277 series of board-mount AC/DC encapsulated modules....
The EPC9171 evaluation board demonstrates the benefits of GaN technology for high volume charger applications, says EPC....
The AOZ71026QI is claimed to be the lowest quiescent power notebook multi-phase VR controller available to date....
3.3 kV SiC MOSFETs and Schottky Barrier Diodes (SBDs) extend designersí options for high-voltage power electronics in transportation, energy and industrial systems...