Features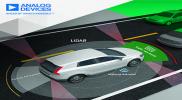 Powering the future of Autonomous driving - issue 4/2019
Analog Devices announced mid July a collaboration with First Sensor AG to develop products aimed at speeding the launch of autonomous sensing technology serving unmanned automotive, aerial and...
More details...
Linear voltage regulators operate at automotive temperatures
Designed for high reliability, high temperature applications, the CMT-Antares is Cissoid's latest regulator.
More details...
Power Electronics Europe News
The MCP39F511A measures both AC and DC modes and saves material cost and development time, claims Microchip. ...
Specialist distributor, Dengrove Electronic Components, offers Recomís evaluation board for the R-78S boost converter....
Flex Power Modules adds a 1300W rated version to its BMR480 DC/DC bus converter series....
Infineon Technologies has designed the ICL5102 resonant controller IC specifically for power supply and lighting drivers....
There are 25 new DC/DC converter modules (DCMs) now available in the DCM Chip family from Vicor....
The STEF01 programmable fuse extends fast-acting overload protection to applications at higher power ratings....
The TLX9309 analogue output IC photocoupler enables high-speed communications capability in automotive applications....
Quarter brick modules from Murata address the power requirements of networking and telecomms infrastructure equipment....
Rohm claims that its LMR1802G-LB op amp features the lowest noise level in the industry for high accuracy sensing....
Addressing emerging applications, the AD242x Automotive Audio Bus transceivers have been enhanced by Analog Devices....