Features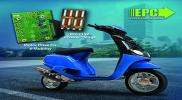 Integrated GaN Power Stage for eMobility - issue 2/2020
Brushless DC (BLDC) motors are a popular choice and are finding increasing application in robotics, drones, electric bicycles, and electric scooters. All these applications are particularly sensitive...
More details...
Linear voltage regulators operate at automotive temperatures
Designed for high reliability, high temperature applications, the CMT-Antares is Cissoid's latest regulator.
More details...
Power Electronics Europe News
IGBTs are suitable for small motor drives up to 1kW
The trench and field-stop technology discrete device is optimised for applications that require a long lifetime, high reliability and efficiency, such as home appliances, general purpose drives in fans, pumps and other brushless DC motors, and industrial sewing machines.
A soft, fast recovery anti-parallel Rapid 1 diode is integrated for reduced losses. The building block for motor drives up to 1.0kW has a good thermal performance, says the company, especially at higher switching frequencies to improve reliability and design margins. Key features are very low VCE(sat) and Vf as well as a short-circuit protection capability of 3.0μsec. The 650V discrete device is optimised for switching frequencies ranging between 5.0 and 30kHz and suitable for applications that need to control the EMI noise efficiently.
The release covers the current classes from 8.0 to 15A in a TO-220FP package. Samples can be ordered now and other package types will be introduced 2019, says the company.
View PDF