Features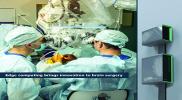 Edge Computing Leverages Modular Power in Scalable Micro Data Centres - May 2022
Edge computing is essential to realizing the full potential of artificial intelligence (AI), machine learning and internet of things (IoT). These technologies are being infused into every corner of...
More details...
Power Electronics Europe News
The low-Ohmic 10W GMR320 and the 15W PSR shunt resistors are designed for high power applications...
At this year's event, EPC launches the EPC9146 GaN-powered motor drive demo board for three-phase motor drives...
Inductors released by Murata have broadband impedance for in-vehicle power over coax (PoC) systems in vehicles...
Infineon has introduced aluminium nitride (AIN) ceramic to its EasyDual CoolSiC MOSFET power modules...
Flex Power Modules introduces the BMR474 digital non-isolated PoL regulator in a compact single inline package ...
Belgium-based research institute Imec have demonstrated epitaxial growth of GaN buffer layers qualified for 1200 V applications on 200 mm QST® substrates, with a hard breakdown exceeding 1800 V...
Cissoid has introduced two liquid-cooled SiC intelligent power modules (IPMs) and one for natural cooling in aerospace design...
The AOZ2263VQI-01 and AOZ2263VQI-02 from Alpha and Omega Semiconductor support VCCIO rails for Intel Rocket Lake CPU...
Over 99 % efficiency at 200 kW / 100 kHz using 3 5mΩ SiC MOSFETs brings significant benefits to EV and renewables...
SEMIKRON and Silicon Mobility, a solution provider of digital control for electrified powertrain, announced the availability of a 24 V to 96 V inverter platform for battery powered vehicles and industrial off-road vehicles...