Features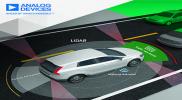 Powering the future of Autonomous driving - issue 4/2019
Analog Devices announced mid July a collaboration with First Sensor AG to develop products aimed at speeding the launch of autonomous sensing technology serving unmanned automotive, aerial and...
More details...
Linear voltage regulators operate at automotive temperatures
Designed for high reliability, high temperature applications, the CMT-Antares is Cissoid's latest regulator.
More details...
Power Electronics Europe News
Vishay Intertechnology has expanded its power modules available in the SOT-227 package with seven new devices....
Alpha and Omega Semiconductor says its 25V technology in the XSPairFET leadless package sets a new standard for power density...
Dual-Core Digital Signal Controller Enables Separate code Design for Digital Power and Drives ...
Isabellenhuette turns a long known metallurgy compound into reality for regenerating waste heat into electrical power. ...
Two Scale-iDriver gate driver ICs are certified to AEC-Q100 grade Level 1 for automotive use, says Power Integrations....
Analog Devices has announced a bandwidth RF transceiver which is claimed to have the industry's widest bandwidth. ...
Two LFPAK56 MOSFETs, the PSMN0R9-30ULD and PSMN1R0-40ULD from Nexperia meet UL2595 requirements for battery powered equipment...
A two-channel PCB from Advanced Linear Devices (ALD), automatically balances supercapacitors....
Intelligent power modules (IPMs) released by Infineon Technologies integrate the company's CoolMOS MOSFETs. ...
The TLP3122A is UL1577-approved and targets factory and building automation, security and semiconductor testing....