Features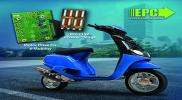 Integrated GaN Power Stage for eMobility - issue 2/2020
Brushless DC (BLDC) motors are a popular choice and are finding increasing application in robotics, drones, electric bicycles, and electric scooters. All these applications are particularly sensitive...
More details...
Linear voltage regulators operate at automotive temperatures
Designed for high reliability, high temperature applications, the CMT-Antares is Cissoid's latest regulator.
More details...
Power Electronics Europe News
Monolithic power monitoring IC has reinforced isolation
The ACS71020 joins the company's existing ACS724 and ACS711 current sensor ICs, commonly used in internet connected power outlets and internet of things (IoT) devices. This addition includes power sensing functions and eliminates power and isolation components to minimise the cost and the size of customer systems.
The IC uses the company's Hall-effect current sensor IC technology and adds line voltage sensing (to voltage levels above 500V rms) and a dedicated metrology engine that digitally calculates detected power levels. This creates, claims the company, the first power monitor IC that can be powered from the same voltage supply as the system microprocessor, without needing digital isolators or multiple power supplies.
Common power measurements are simplified by digital computation of parameters including active, reactive and apparent power. These power values can be read out through I²C or SPI. The IC also includes dedicated pins for voltage zero crossing (suitable for light-dimming applications) and fast over-current fault detection (for sensing short-circuits). The ACS71020 eliminates the need for opto-couplers, dual output isolated power supplies and a current sense-resistor in single phase power monitoring applications.
The IC is housed in a single SOIC-16 wide body package that provides a reinforced isolation rating up to 517V rms. The monolithic IC makes it simple to add power monitoring to any AC or DC powered device, says the company.
The ACS71020 current sensor IC is factory-programmed for optimised accuracy measurement to either ±15, ±30, or ±90A.
View PDF