Features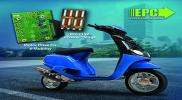 Integrated GaN Power Stage for eMobility - issue 2/2020
Brushless DC (BLDC) motors are a popular choice and are finding increasing application in robotics, drones, electric bicycles, and electric scooters. All these applications are particularly sensitive...
More details...
Linear voltage regulators operate at automotive temperatures
Designed for high reliability, high temperature applications, the CMT-Antares is Cissoid's latest regulator.
More details...
Power Electronics Europe News
200V half-bridge gate driver IC oversees motor control in battery-driven devices
The IC has under-voltage-lockout for V CC and V BS to ensure a higher reliability in start-up operations than previous product generations, according to the company. The IC is tailored for low (24, 36 and 48V) and medium (60, 80, 100 and 120V) motor control applications in battery driven devices. Typical use examples are drones, light electric vehicles (e.g. e-bikes and e-scooers), power tools, and household and garden equipment.
It also includes integrated dead-time and shoot-through protection, low quiescent currents, tolerance of negative transient voltage and dV/dt immunity. This combination, says Infineon, ensures the device's reliability and reduces the bill of materials.
The 200V level-shift gate driver family comprises three-phase, half-bridge, and high and low side gate driver ICs, in both, silicon-on-insulator (SoI) and junction isolation (JI) options. The three-phase gate driver ICs use the company's SoI technology to provide functional isolation with, what is claimed to be, industry leading negative V S robustness and reduced level shift losses. The SoI version has integrated bootstrap diodes (BSD) to further reduce overall cost, simplify layout, and reduce PCB size, claims the company.
The IC uses the company's high voltage IC technology for a compact, robust monolithic construction. It is offered in a standard SOIC-8 (DSO-8) package, although a smaller MLPQ 4x4 14L (VQFN-14) package option is also available.
The IC is available to order now.
View PDF