Features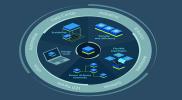 Power of the Module - Nov/Dec 2020
Vicor has established a power module capability spanning product design, manufacturing, simulation and selection tools. This capability allows Vicor to enable power systems designers to quickly and...
More details...
Power Electronics Europe News
Würth Elektronik adds some magic to power module range
Two additional modules have been added to the MagI³C-VDMM (variable step down micro module). The 1.0 and 1.2A versions have an input range of 2.5 to 5.5V and covers the standard 3.3 and 5.0V bus voltages. Adjustable output voltage ranges from 0.8 to 5.5V.
The modules have been designed for high efficiency in the low load range, says the company. The DC/DC converter and coil are integrated into a compact LGA-6EP package.
The MagI³C-VDMM modules can be used as a replacement for linear regulators, including the supply of interfaces, microcontrollers, microprocessors, DSPs and FPGAs. The company adds that the small, efficient (96%) modules are suitable for use in mobile and battery-powered devices.
An additional pin can save energy and extend battery life with a sleep mode.
The modules meet the CISP-32 standard for Class B radiated interference without additional filter elements.
The new members are available from stock. Free samples can be requested.
View PDF