Features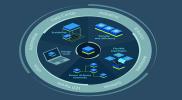 Power of the Module - Nov/Dec 2020
Vicor has established a power module capability spanning product design, manufacturing, simulation and selection tools. This capability allows Vicor to enable power systems designers to quickly and...
More details...
Power Electronics Europe News
Switching regulator adds versatility to industrial equipment
The low-cost, industrial grade switching regulator is supplied in a classic SIP3 3-pin format that will accept an input voltage up to 72V DC (100V DC surge) to supply a regulated 5V/300mA short-circuit protected output.
The wide operating range is from -40°C to 105°C without load derating and delivers a tightly regulated (±1%) output with high efficiency and low ripple/noise.
To meet the demanding conditions of industrial equipment, the R-78HE5.0-0.3 has a mean time between failure (MTBF) of 15 million hours. To ensure consistent quality control, it is manufactured in the company's IATF 16949 certified factory.
Typical applications include industrial CAN-bus systems, 36V/48V Li-Ion battery-powered equipment, off-grid solar power supplies and remote powered units with very long supply cables.
Samples are available from all authorised distributors or directly from the company.
View PDF