Features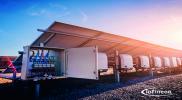 Benefits of CoolSiC MOSFETs in Bi-Directional Inverter Applications - July 2021
With the move to renewable energy, there is an increased focus not only on generation but also storage, to make the most of the intermittent supply from wind and solar. Batteries are the common...
More details...
Power Electronics Europe News
Integrated, intelligent IC reduces power consumption of motors
Efficient operation of the 600V intelligent, high voltage power device reduces power consumption of motor equipment, says the company. It can be used to drive the motor within equipment such as air conditioners, air cleaners and pumps. Rated power supply voltage (VBB) is 600V, for use in any applications with input signals in the range 200 to 220V AC.
The IC contains a PWM circuit, three-phase decoder, level shifting high-side driver and low side driver with embedded IGBTs and fast recovery diodes (FRDs). This allows direct drive of brushless DC (BLDC) motors with square wave input signals from a Hall sensor or Hall IC without requiring a PWM controller IC.
Power dissipation is reduced by approximately 10% compared its predecessor, the TPD4152F. Protection features include current limit, over-current protection (OCP), thermal shutdown and under-voltage lockout (UVLO) are built-in to reduce the need for peripheral circuits. The IC is provided in a small HSSOP31 surface mount package with a 17.5 x 11.9mm footprint and a height of 2.2mm to allow for compact designs and enables the driver circuitry to be mounted directly to the motor.
View PDF