Features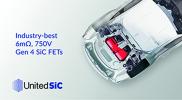 A New Approach to Circuit Breaker Design Using Silicon Carbide Switches - Nov 21
Mechanical circuit breakers can be low cost with minimal losses, but they operate slowly and wear out. Solid state versions overcome the problems and are becoming increasing viable as replacements at...
More details...
Power Electronics Europe News
RS Components adds SiC MOSFETs from ON Semiconductor
The MOSFETs support accelerated switching speeds (with rise times of as little as 10ns). Exhibiting on-resistance figures down to 20mΩ and gate charge values which are claimed to be industry-leading, the MOSFETs are subject to minimal power losses. The robust devices can cope with ultra-high current surge pulses, and feature a dielectric breakdown field strength that is an order of magnitude greater than that for equivalent silicon MOSFETs, says the company. The wide operating temperature range covers -55°C to 175°C.
The 1200V SiC MOSFETs are supplied in compact TO247 packages and surface mount D2PAK. They are also lead-free (Pb-free) and conform to RoHS environmental directives. They are also fully UIL tested.
The MOSFETs are suitable for a wide variety of applications, including uninterruptible power supplies (UPS), electric vehicle charging stations, DC/DC converters, motor control systems, and solar inverters. AEC-qualified variants are available.
The N-channel SiC MOSFETs are shipping now from RS in the EMEA and Asia Pacific regions.
View PDF