Features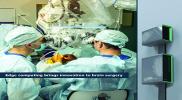 Edge Computing Leverages Modular Power in Scalable Micro Data Centres - May 2022
Edge computing is essential to realizing the full potential of artificial intelligence (AI), machine learning and internet of things (IoT). These technologies are being infused into every corner of...
More details...
Power Electronics Europe News
Microchip expands its SA50-120 radiation-hardened DC/DC converter family
As the number of communication and weather satellites increases and space research grows, the SA50-120 family of power converters has been expanded for advances in spaceflight system design and production.
The company claims that the SA50-120 family are the only standard non-hybrid space-grade DC/DC power converters available today. They use surface mount component construction, allowing flexibility and customisation to fit specific applications and requirements. The family is qualified to Mil-Std-461, Mil-Std-883 and Mil-Std-202, to enable designers to start with proven commerical-off-the-shelf (COTS) technology and scale up development, reducing risk and development time.
The radiation-hardened converters use 120V input and offer up to 56W of output in a low profile package. The EMI-compliant, single and triple output devices are suitable for use in space station and ORION programme platforms. The switching regulators use peak current mode controlled single-ended forward converter topology with inherent single-event immunity (SEI). The converters offering eight million hours MTBF and up to 87% efficiency. This, says Microchip, is the highest of any standard 120V input space-grade DC/DC power converter.
The converters are qualified to 100krad (Si) total ionisation dose (TID) and single event effects (SEE) greater than 80 MeV cm2/mg, and offer synchronisation, a transistor-transistor logic (TTL) on/off command signal, and various protection features. Single output versions additionally offer remote sense, output voltage adjust and parallel connection functions.
In addition to introducing advances based on COTS technology, the company also teams with system manufacturers and integrators on obsolescence management, supporting customers' efforts to minimise redesign work and lengthen life cycles, to reduce overall system costs.
There is also end-to-end design support to accelerate time to market including analysis, qualification and production. Designers can obtain analysis and qualification reports on demand and engineering development units are available from stock.
The SA50-120S DC/DC converters are available in 3.3V, 5.0V, 12V, 15V and 28V outputs. SA50-120T units are available in 3.3V or 5.0V main output with 12V or 15V auxiliary outputs. They are available now for volume production and limited sampling.
View PDF