Features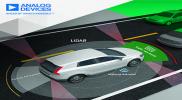 Powering the future of Autonomous driving - issue 4/2019
Analog Devices announced mid July a collaboration with First Sensor AG to develop products aimed at speeding the launch of autonomous sensing technology serving unmanned automotive, aerial and...
More details...
Linear voltage regulators operate at automotive temperatures
Designed for high reliability, high temperature applications, the CMT-Antares is Cissoid's latest regulator.
More details...
Power Electronics Europe News
Toshiba Electronics Europe adds the TB67H420FTG for higher voltage applications such as robotic vacuum cleaners....
Analog Devices has announced the Power by Linear LTM4661 low power, step-up µModule regulator....
Four companies form the Power Stamp Alliance to enable a multi-vendor supply chain for open compute projects and data centres...
Designed for harsh environments, Recom's RPA100H and RPA200H are available from Dengrove Electronic Components....
The PKU4300D 1/ 16th bus converter can replace 1 /8th devices in distributed and intermediate bus applications....
Alpha and Omega Semiconductor's Type-C Power Delivery (PD) -compliant load switch has up to 28V over-voltage protection...
Recom has added two- and three-phase AC/DC DIN-rail power supplies to its power supplies ranging from 0.25 to 1000W....
Vicor claims that its latest Power-on-Package (PoP) ChiP-set can be used effectively, close to XPUs...
The 2018 conference programme includes electric vehicle (EV) technologies as well as power device design and packaging....
DC/DC converters from CUI's Power Group are designed for solar power equipment, wind turbines and electric charging stations....