Features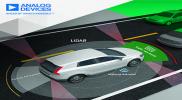 Powering the future of Autonomous driving - issue 4/2019
Analog Devices announced mid July a collaboration with First Sensor AG to develop products aimed at speeding the launch of autonomous sensing technology serving unmanned automotive, aerial and...
More details...
Linear voltage regulators operate at automotive temperatures
Designed for high reliability, high temperature applications, the CMT-Antares is Cissoid's latest regulator.
More details...
Power Electronics Europe News
VITA 62-compliant supplies meet MIL-COTS VPX applications
The power supplies achieve what is claimed to be high-efficiency and high-power density in a rugged, conduction-cooled chassis.
The initial products operate from a nominal 28 or 270V DC input, with pred-efined output voltages which range from 3.3 to 12V, delivering up to 600W of power. Customers requiring different output
voltages or power levels can request a customized power supply to meet their own specifications.
This family of products has been fully tested and will meet MIL-461F and MIL-704F.
The 28V input version also meets MIL-1275D.
View PDF