Features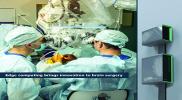 Edge Computing Leverages Modular Power in Scalable Micro Data Centres - May 2022
Edge computing is essential to realizing the full potential of artificial intelligence (AI), machine learning and internet of things (IoT). These technologies are being infused into every corner of...
More details...
Power Electronics Europe News
Rohm says the power supply technology improves the load transient response characteristics of switching regulators and LDOs...
Recom has introduced the RAC10E-K/277 series of board-mount AC/DC encapsulated modules....
The EPC9171 evaluation board demonstrates the benefits of GaN technology for high volume charger applications, says EPC....
The AOZ71026QI is claimed to be the lowest quiescent power notebook multi-phase VR controller available to date....
3.3 kV SiC MOSFETs and Schottky Barrier Diodes (SBDs) extend designersí options for high-voltage power electronics in transportation, energy and industrial systems...
Power Integrations HiperPFS-5 ICs enable compact, efficient power-factor stage ...
The MAX30009 is a low power bioimpedance analogue front end (AFE) available from Analog Devices....
The two, 540W rated AC/DC power modules use the PMBus interface for programming or remote monitoring....
Vishay Intertechnology says the IHLE-2020CD-51 and IHLE-2020CD-5A are the smallest high current inductors available today....
Alpha and Omega Semiconductor increases the power rating with its latest half-bridge power stage for coil drivers....