Features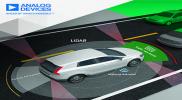 Powering the future of Autonomous driving - issue 4/2019
Analog Devices announced mid July a collaboration with First Sensor AG to develop products aimed at speeding the launch of autonomous sensing technology serving unmanned automotive, aerial and...
More details...
Linear voltage regulators operate at automotive temperatures
Designed for high reliability, high temperature applications, the CMT-Antares is Cissoid's latest regulator.
More details...
Power Electronics Europe News
Two TO220-3L package options have been added to the UnitedSiC range of hard-switching UF3C FAST 650V SiC FETs. ...
Alpha and Omega Semiconductor applies Source Down packaging technology to AOE66410 for synchronous rectification...
Conductive polymer hybrid aluminium electrolytic capacitors reduce the number of capacitors needed for automotive ECUs ...
Maxim Integrates says its MAX40056 offer the industry's highest accuracy and fastest settling time....
The MAMG-100227-010C0L module is available from the distributor for military tactical broadband communications....
The DRB480-48-1 48V 480W output model has been added to the DRB series of 15 to 480W DIN rail mount power supplies. ...
The ILD8150/E LED driver IC is based on hybrid dimming mode technology to achieve 0.5% of the target current...
Intended for smart building applications, the XT-GR is the latest dimmable LED drivers from Xelite....
The PQAE40U, PQAE60U and PQAE100U, 12:1 input quarter brick DC/DC converters are designed for demanding applications....
A gate driver system for IGBT, hybrid and SiC MOSFET power modules is designed for easy paralleling, says Power Integrations...