Features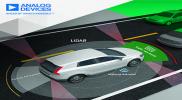 Powering the future of Autonomous driving - issue 4/2019
Analog Devices announced mid July a collaboration with First Sensor AG to develop products aimed at speeding the launch of autonomous sensing technology serving unmanned automotive, aerial and...
More details...
Linear voltage regulators operate at automotive temperatures
Designed for high reliability, high temperature applications, the CMT-Antares is Cissoid's latest regulator.
More details...
Power Electronics Europe News
Increasing Efficiency of Display Power Supplies
At APEC 2019 Power Integrations announced the InnoMux™ chipset for display power supplies. The chipset's single-stage power architecture reduces losses in display applications by increasing overall efficiency in constant-voltage and constant-current LED backlight driver stages by 50 % compared to conventional solutions, achieving up to 91 % efficiency. When paired with InnoSwitch3-MX, InnoMux simplifies the power supply design for monitors and TVs by replacing the AC/DC and DC/DC converters with a single-stage flyback topology. The LED backlight control offers minimum threshold regulation as well as analog and several PWM dimming options. The sequenced PWM dimming option further improves visual performance and stabilizes power demand. Extensive protection features such as individual overload protection for all outputs, string imbalanced / short / open protection, and output over-voltage set for auto-restart are provided.
The InnoMux controller (28-lead HSOP package for single-sided wave soldered PCBs or small 28-lead QFN in 5 mm x 5 mm body for compact multilayer designs) consists of a multi-output controller for regulating the three outputs independently, a BP Regulator for supplying both the InnoMux as well as the paired InnoSwitch3-MX secondary controller, high-side MOSFET drivers for directing the energy from the transformer to the appropriate output, shunts to prevent individual outputs from rising in abnormal loading conditions, current sources to drive up to four LED backlight strings, and readers to determine the value of application configuration resistors.
The (paired) InnoSwitch3-MX is the latest flyback switcher IC, combining the primary FET, the primary-side controller, a secondary-side controller for synchronous rectification, and FluxLink™ isolated high-speed communications, which eliminates the need for an optocoupler. The InnoSwitch3-MX receives control information from the InnoMux IC, which independently measures the load requirements of each output and directs the InnoSwitch3-MX switcher to deliver the right amount of power to each of the outputs to maintain accurate regulation of current or voltage; this eliminates the load and cross-regulation challenges seen with conventional multi-output power supplies, making post-regulators unnecessary. Thus overall power conversion efficiency increases by 10 %.
InnoMux supports both accurately regulated constant-current and constant-voltage outputs simultaneously, supplying one to four channels of constant-current and up to two constant-voltage outputs. This flexibility supports the logic, audio and LED requirements typically seen in TV and monitor displays. The IC provides overload protection for each output. InnoMux also supports sophisticated dimming on the LED CC output - analog, PWM, interleaved and hybrid dimming are controlled via dedicated analog and PWM control pins, allowing accurate dimming down to 1.5 %.
Samples will be available in the second quarter via the Power Integrations website at www.power.com/products/innomux-family.