Features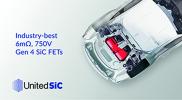 A New Approach to Circuit Breaker Design Using Silicon Carbide Switches - Nov 21
Mechanical circuit breakers can be low cost with minimal losses, but they operate slowly and wear out. Solid state versions overcome the problems and are becoming increasing viable as replacements at...
More details...
Power Electronics Europe News
Surface mount, non-isolated DC/DC converter saves board space
The thin converter has an output current of 500mA and a no-load current down to 0.2mA. Operating temperature range is -40 to 85°C.
The regulated DC/DC converter offers a wide 4.75 to 36V DC input voltage range, short-circuit protection and 4-SMD reflow solderability in a compact SMT package with half-vias corners.
It offers up to 95% efficiency and is suitable for applications which need to maximise energy where board space is limited, for example in commercial IT equipment, controls and electronic equipment, as an alternative to a linear regulator.
The DC/DC converter is certified to UL/EN/IEC 62368 and is available now.
View PDF