Features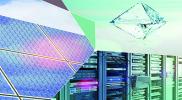 SiC MOSFETs for Bridge topologies in three-phase power conversion - issue 6/2019
Efficiency, productivity and legislation are the main drivers in power applications today. Making more out of less energy and saving costs is putting a greater focus on better conversion efficiency...
More details...
Linear voltage regulators operate at automotive temperatures
Designed for high reliability, high temperature applications, the CMT-Antares is Cissoid's latest regulator.
More details...
Power Electronics Europe News
SiC MOSFET provides fast switching with low losses
The first series of silicon carbide (SiC) MOSFETs, is the first organically designed, developed, and manufactured SiC MOSFETs to be released since Littelfuse invested in SiC technology development company, Monolith Semiconductor.
The LSIC1MO120E0080 series MOSFETs have a voltage rating of 1,200V and low on-resistance of 80mΩ. The MOFET is optimised for high-frequency switching applications, claimed to provide a combination of low switching losses and fast switching speeds unavailable with traditional power transistor solutions.

Compared with silicon devices that have the same rating, the SiC MOSFET series enables greater energy efficiency, reduced system size and weight, and increased power density in power electronics systems. It also offers superior robustness and exceptional performance, says Littelfuse, even at high operating temperatures (150°C).

Typical applications include power conversion systems such as solar inverters, switch mode power supplies, UPS systems, motor drives, high voltage DC/DC converters, battery chargers and induction heating.

The LSIC1MO120E0080 series SiC MOSFET is available in TO-247-3L packaging and provided in tubes in quantities of 450. Sample requests may be placed through authorised Littelfuse distributors worldwide.
View PDF