Features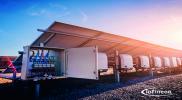 Benefits of CoolSiC MOSFETs in Bi-Directional Inverter Applications - July 2021
With the move to renewable energy, there is an increased focus not only on generation but also storage, to make the most of the intermittent supply from wind and solar. Batteries are the common...
More details...
Power Electronics Europe News
Navitas Semiconductor partners with HYPER by Sanho Corporation to introduce the HyperJuice 100-W 4-port charger with GaNFast ...
Four low profile power supplies for demanding applications have been added to the LHA series covering 30 to 100W....
The latest buck-boost, non-isolated DC/DC converter from Recom has efficiency of 98% and a baseplate-cooled package....
Two families of 2.0 to 12A microBuck regulators by Vishay Intertechnology are supplied in the compact PowerPAK package...
The additions to the Prime Block range are for industrial AC and DC drives, rectifiers and bypasses in power supplies...
An integrated, dimmable LED controller from Taiwan Semiconductor, is for AEC-Q100-qualified for automotive lighting...
Designers can optimise the bill of materials with the dual-role PI3USB9201 USB battery charging detector, says Diodes....
Dengrove Electronic Components has added the REM2 isolated DC/DC converter from Recom to its portfolio. ...
LEM introduced new low- and high-current sensors at SPS...
The TCKE8xx series is the first range of eFuse IC products developed by Toshiba Electronics Europe. ...