Features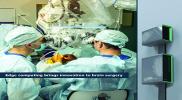 Edge Computing Leverages Modular Power in Scalable Micro Data Centres - May 2022
Edge computing is essential to realizing the full potential of artificial intelligence (AI), machine learning and internet of things (IoT). These technologies are being infused into every corner of...
More details...
Power Electronics Europe News
SVR and VR non-isolated DC/DC switching regulators by XP Power replace low efficiency linear regulators. ...
Vox Power has produced a tiny 300W single output power supply, qualified for medical systems....
A fast switching 600V αMOS5 super junction MOSFET from Alpha and Omega Semiconductor (AOD) is in a TO-leadless (TOLL) package...
A family of radiation-hardened (rad-hard) GaN transistors have high performance parameters for spacebourne applications, says EPC Space....
Registration is now open for a virtual keynote event for suppliers and innovators across EMEA to be held Thursday 19 November...
Infineon introduces the CoolSiC MOSFET with .XT interconnection technology for passive cooling in automation systems...
A one-day event, MTEC 2020, (2 December, 2020) will include technical presentations and opportunities to discuss with experts...
The SSM6N951L is designed to enhance operation in Li-Ion battery packs of portable consumer hardware....
TDK's medical/industrial 15W and 20W DC/DC converters are certified to IEC 60601-1 and IEC 62368-1 standards....
The RPX-1.0 and RPX-1.5 are for industrial and motor control, ATE, medical, imaging and high-density power systems...