Features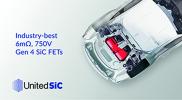 A New Approach to Circuit Breaker Design Using Silicon Carbide Switches - Nov 21
Mechanical circuit breakers can be low cost with minimal losses, but they operate slowly and wear out. Solid state versions overcome the problems and are becoming increasing viable as replacements at...
More details...
Power Electronics Europe News
Microcontroller facilitates inverter control of compact motors
The 32-bit
microcontrollers enable inverter control of compact motors such as fans or pumps in consumer and industrial applications that conventionally use on-off switching for motor control. It is intended for factory equipment where energy efficiency is a priority such as cooling fans for data sensor servers, supply pumps and cordless, battery-powered household power tools and vacuum cleaners where longer operating periods are demanded.
They lower the cost of bill of materials and raises efficiency, says the company, by incorporating functions optimised for single-motor inverter control to reduce the number of peripheral components required.
They are claimed to be the first microcontrollers that operate at 32MHz and incorporate a floating point unit (FPU). They also provide inverter control timer (MTU3), 12-bit ADC, programmable gain amplifier (PGA) and data flash memory, making it possible to implement brushless DC motor control on a single chip, explains the company.
The devices are available in a compact 32-pin LQFP and a 48-pin LFQFP. The company has announced plans to offer 32-pin 5mm square and 48-pin 7mm square QFN package versions.
A RX13T CPU card supports the 24V motor control evaluation kit (with motor). It includes emulator functionality, eliminating the need for an on-chip debugging emulator. Motor control sample code for sensor-less vector control is also available, and supports the Renesas Motor Workbench 2.0 motor control development support tool.
View PDF