Features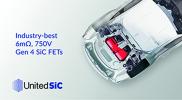 A New Approach to Circuit Breaker Design Using Silicon Carbide Switches - Nov 21
Mechanical circuit breakers can be low cost with minimal losses, but they operate slowly and wear out. Solid state versions overcome the problems and are becoming increasing viable as replacements at...
More details...
Power Electronics Europe News
Controller reduces size and cost for smart building devices
The controller for high-voltage converters up to 8W is integrated to reduce the size and cost of home appliances, building-automation devices, smart lighting, and smart meters, while adding versatility for designers, says the company.
It includes an error amplifier, current-sensing MOSFET and high-voltage start up circuitry, making it suitable for use in a variety of topologies, including non-isolated flyback converters, isolated flyback converters with primary-side regulation or secondary-side regulation using a photo-coupler, buck converters and buck-boost converters.
This is the first in the company's integrated controller family to contain a 730V avalanche-rugged power stage for reliable operation. It also features short-circuit protection, thermal protection, pulse skipping protection, soft start, and circuitry to manage burst-mode operation for enhanced efficiency at light load are also provided.
To minimise external bill of materials and to simplify converter design, it also includes a wide operating voltage (VCC) range of 4.5 to 30V, which allows the device to be easily powered whatever the desired output voltage. The low start up voltage of 30V DC permits a wide input voltage range and supports starting at low supply voltages. Light load power consumption is less than 40mW and the jittered PWM controller allows the use of small filter components.
The VIPer222 is in production now and available in a 5.0 x 4.0mm SSOP10.
View PDF