Features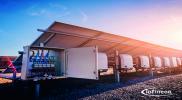 Benefits of CoolSiC MOSFETs in Bi-Directional Inverter Applications - July 2021
With the move to renewable energy, there is an increased focus not only on generation but also storage, to make the most of the intermittent supply from wind and solar. Batteries are the common...
More details...
Power Electronics Europe News
Isolated DC/DC converters are surface mount to save space
The converters measure 15.24 x 10.7 x 8.0mm. The open-frame, surface mount modules are available with standard isolation rating of 1kV/second or in a high-voltage 3kV/second version. Customers can choose a nominal input voltage of 5V with unregulated 3.3 or 5V output, or 24V nominal input with 5.0, 15 or 24V output. Efficiency is assured from 20% to full load, up to 86%.
Design-in is easy, says the specialist distributor, with no minimum-load requirement. Only a simple, low-cost LC filter is needed for EN55032 Class-B EMC compliance. There is guidance is provided to help optimise the component values. The converters operate from -40 to 75°C at full load and up to 100°C with derating.
The converters are covered by a three-year manufacturer warranty and are certified to IEC/EN/UL 62368-1, which allows use in new generations of electronic products formerly covered by 60950-1 or 60065 specifications.
View PDF