Features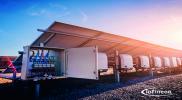 Benefits of CoolSiC MOSFETs in Bi-Directional Inverter Applications - July 2021
With the move to renewable energy, there is an increased focus not only on generation but also storage, to make the most of the intermittent supply from wind and solar. Batteries are the common...
More details...
Power Electronics Europe News
Patented technology in the QM series of AC/DC modular power supplies simplifies the design of 75 to 150W outputs....
Encapsulated modules from Minmax can tolerate use in harsh conditions, including ambient temperatures up to 92.5°C....
Two series of external power supplies for home-based healthcare and IT applications have been released by XP Power....
Dengrove Electronic Components offers Recom's R2SX 2W isolated DC/DC converters for bus isolation and industrial power ...
Claiming the industry's lowest quiescent current, the TPS7A02 can extend battery life in industrial and personal devices...
Automotive supplier Delphi and Cree/Wolfspedd announced a partnership to utilize SiC technology for electric vehicles...
The distributor partners with Student Circuit for a series of events and a competition to win drones and a mobile laboratory...
Partnering with Efficient Power Conversion, Solace Power incorporates low cost eGaN FETs in its 250W wireless power platform...
The MGF80 is in an industry standard, six sided, shielded metallic case and designed for use in demanding applications....
A ruggedised option has been added to the GXE600 series of 600W rated programmable AC/DC power supplies by TDK-Lambda. ...