Features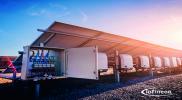 Benefits of CoolSiC MOSFETs in Bi-Directional Inverter Applications - July 2021
With the move to renewable energy, there is an increased focus not only on generation but also storage, to make the most of the intermittent supply from wind and solar. Batteries are the common...
More details...
Power Electronics Europe News
Encapsulated DC/DC modules have mounting options
The 6W and 10W DC/DC power modules have chassis and DIN rail mounting options. The 6W MJWI06C and 10W MKWI10C converter modules are suitable for use on a 24V or 48V power bus. They provide a standalone power supply solution which does not need to be integrated into a circuit board design in industrial or communications equipment. They offer an ideal way to supply a regulated voltage to circuits in server racks, data cabinets, and outdoor telecoms equipment such as base transmitter stations.
The rugged modules handle harsh operating conditions, including an ambient temperature range of -40°C to 92.5°C, and provide I/O isolation of 3kV DC.
The modules are suitable for low power applications. Customers can meet the requirement for regulated power outputs of sub-10W without the need to design and assemble a board-mount power supply.
The modules are available with a fixed output voltage of 5.0, 5.1, 12, 15, 24, 48, ±12, ±15 or ±24V DC. They operate from a 4:1 input-voltage range of 9.0 to 36V or 18 to 75V DC. Typical efficiency when supplying the maximum load is up to 86%.
A stable feedback loop produces no oscillation in no-load and light-load conditions, says the company. The modules have no minimum load requirement.
For EMC compliance and EMI emissions, they are approved to EN 55032 Class A and FCC Level A. For electromagnetic immunity, they are approved to EN 61000-4-2, -3, -4, -5, -6 and -8.
They also have under-voltage, overload and short-circuit protection.
View PDF