Features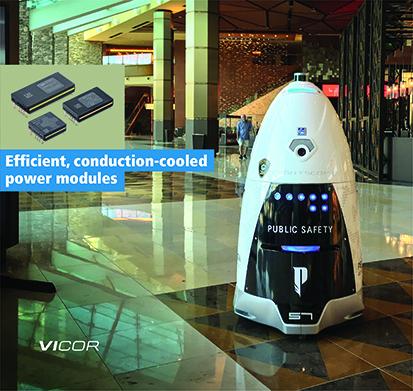 Knightscope's autonomous security robots patrol with superhuman acuity and detection prowess - May 2023
A fusion of innovative robotics, self-driving technology, vehicle electrification and artificial intelligence
More details...
AC/DC power factor correction module offers up to 1,512W
A full brick package developed by TDK-Lambda, the PF1500B-360, is for high voltage distributed power architectures
More details...
Power Electronics Europe News
TDK-Lambda expands GENESYS
The
50V, 400V and 500V output models have output of 5kW, 10kW and 15kW in 1U, 2U and 3U high 19-inch rack-mount packages. The G50, G400, G500, GSP50, GSP400 and GSP500 power supplies are compatible with the exisiting models in the GENESYS series. The latest additions to the range target the test of automotive subsystems, including EV
powertrains and also
proton exchange membrane (PEM) electrolysers for hydrogen production.

These optimised output voltages enable the power supplies to deliver more current without needing to parallel two or more units, explains the company.
All models seamlessly transition between constant voltage and constant current modes and also have constant power operation. For higher power systems, multiple power supplies can be connected in parallel with a patented master/slave system that provides dynamic load response and ripple and noise characteristics comparable with that of a single power supply.
The latest additions to the range can be ordered with three phase input ranges of 170 to 264Vac, 342 to 460Vac or 342 to 528Vac. The 5kW GENESYS can be easily installed or moved, says the company, because the units weigh less than 7.5kg. There is a blank front panel option for where user access is not required or needs to be restricted. Snap-on dust filters can also be added to limit airborne contamination.
Programming is standardised across the GENESYS series with either front panel controls, remotely via LAN (LXI 1.5), USB 2.0 and RS232/485 communications, or by isolated analogue control and monitoring (0 to 5V, 0 to 10V) which are provided as standard. Optional interfaces include a choice of GPIB (IEEE488.2) and the Anybus CompactCom interface platform for EtherCAT, Modbus-TCP and other interface options as they are released. Software drivers, a waveform creator and a virtual front panel GUI are provided in the software package.
Safety features include safe/auto restart, last setting memory and built-in protection.
The supplies are covered by a five-year warranty and are certified to IEC/EN/UL 61010-1 with CE marking to the Low Voltage, EMC and RoHS Directives. The GENESYS series is also compliant to IEC/EN 61203-3 for conducted and radiated EMI and EMC immunity.
View PDF