Features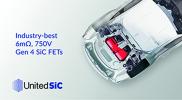 A New Approach to Circuit Breaker Design Using Silicon Carbide Switches - Nov 21
Mechanical circuit breakers can be low cost with minimal losses, but they operate slowly and wear out. Solid state versions overcome the problems and are becoming increasing viable as replacements at...
More details...
Power Electronics Europe News
Mascot's medical Blueline series ranges from 5.0 to 60W and comply with Ecodesign requirements for the EU and North America....
In electrifying the automobile tier-1 supplier ZF Friedrichshafen joins forces with Cree and Danfoss Silicon Power...
Infineon Technologies introduces an evaluation board for silicon carbide (SiC) in motor drives...
Components Bureau expands its power product offering following an agreement with power specialist, Artesyn....
Offered in an SMPC4.6U package, the TSUPxM45SH and TSUPxM60SH are qualified to AEC-Q1010, says Taiwan Semiconductor...
Claiming to 'shatter' industry benchmarks, the MAX6078A, MAX16155 and MAX16160 have been introduced for comms and industrial ...
Two 600mA synchronous step-down DC/DC converters from Torex Semiconductor have an internal 36V operation driver transistor...
To develop battery maintenance-free IoT equipment, an evaluation kit based on the SOTB microcontrollers is now available....
Alpha and Omega Semiconductor has developed the AOZ8621UNI for VBUS protection in laptops and mobile phones....
Rohm employs Emarmour technology in ultra-high noise tolerant comparators, the BA8290xYxxx-C-Series...