Features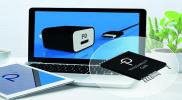 GaN-based switcher ICs empower next-generation power products - issue 1/2020
There have been a number of disruptive advances in the power electronics community over the last 20 years....
More details...
Linear voltage regulators operate at automotive temperatures
Designed for high reliability, high temperature applications, the CMT-Antares is Cissoid's latest regulator.
More details...
Power Electronics Europe News
The XC6192 series of pushbutton load switch ICs by Torex Semiconductor are designed for devices with small‐capacity batteries...
Recom announces the RACM18-ER and RACM30-ER AC/DC converters for medical PCBs which need certification and energy efficiency....
The AL1788 is an offline constant voltage and PFC controller from Diodes, designed for connected LED lighting....
The BMR480 DC/DC bus converter module is based on Flex Power Modules' Hybrid Regulated Ration (HRR) topology....
The PWD13F60 (SiP) by STMicroelectronics has a footprint 60% smaller than a comparable circuit built from discrete components...
Supercapacitor auto-balancing boards from Advanced Linear Devices control leakage current to enhance data centre reliability...
Rohm Semiconductor announces the GM100 series high-power low-Ohmic shunt resistors, designed for high-power applications....
Texas Instruments says the TPS92830-Q1 is the first three-channel linear automotive LED controller without internal MOSFETs....
Fast transition eGaN FETs on the EPC9126HC drive current up to 150A and pulse widths down to 5ns to enhance a lidar system...
A dual channel, 36V, synchronous, step-down LED driver from Analog Devices, simplifies LED dimming control....