Features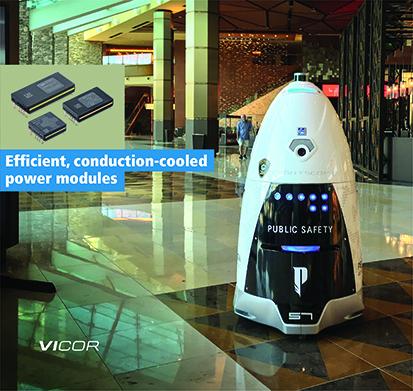 Knightscope's autonomous security robots patrol with superhuman acuity and detection prowess - May 2023
A fusion of innovative robotics, self-driving technology, vehicle electrification and artificial intelligence
More details...
AC/DC power factor correction module offers up to 1,512W
A full brick package developed by TDK-Lambda, the PF1500B-360, is for high voltage distributed power architectures
More details...
Power Electronics Europe News
Surface mount MLCCs are constructed for tin whisker mitigation
The surface mount multilayer ceramic chip capacitors (MLCCs) are suitable for low earth orbit (LEO) satellites and other space, military, and avionics applications requiring tin whisker mitigation, says the company. Operating temperatures can be up to 150°C.
The Vishay Vitramon VJ....32 Lead-Bearing Finish series have a termination finish with a minimum lead (Pb) content of 4%. Previously, the option for lead (Pb)-bearing termination finishes was reserved for more expensive hi-rel devices. These MLCCs are a cost-effective alternative for aerospace systems in which tin whiskers must be avoided but in which space-level reliability is not required.
The MLCCs are manufactured in noble metal electrode (NME) technology with a wet build process. They are available with C0G (NP0) and X7R dielectrics and in five body sizes from 0402 to 1210.
Devices with a C0G (NP0) dielectric feature low capacitance down to 1.0pF, a temperature co-efficient of capacitance (TCC) of 0ppm/°C ±30ppm/°C from -55 to 125°C, and an aging rate of 0% (maximum) per decade.
X7R devices provide higher capacitance, up to 1.0µF, TCC of ± 15% from -55 to 125°C, and an aging rate of 1% (maximum) per decade.
The MLCCs are qualified according to AEC Q200 for automotive use.
Samples and production quantities of the VJ....32 Lead-Bearing Finish MLCCs are available now, with lead times of 12 weeks.
View PDF