Features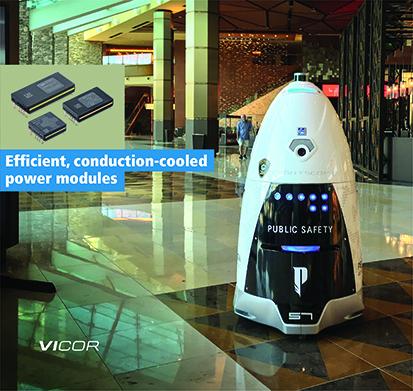 Knightscope's autonomous security robots patrol with superhuman acuity and detection prowess - May 2023
A fusion of innovative robotics, self-driving technology, vehicle electrification and artificial intelligence
More details...
AC/DC power factor correction module offers up to 1,512W
A full brick package developed by TDK-Lambda, the PF1500B-360, is for high voltage distributed power architectures
More details...
Power Electronics Europe News
Littelfuse integrates current limiting in solid state relay
At 1A, 60V, it is claimed to be the highest current, normally open solid state relay available today that integrates both current limiting and thermal shutdown circuits. It is intended for use in smart homes, building automation, instrumentation, and battery-powered applications.
The small, surface-mount CPC1561B solid state relay's dual fault protection means that it can be used in demanding applications that cannot be met using electromechanical relays and standard solid state relays, says the company. It enhances electronics capabilities to survive fault conditions through active current limiting and adapts to fault conditions using thermal shutdown fault mode protection at 128˚C die temperature. It offers input-output galvanic isolation via 3750V RMS input-to-output isolation.
In addition to smart homes and building automation, it can be used in gaming and a variety of battery-powered systems that cannot be out of operation for long periods of time due to over-current, over-temperature and electrical stress, advises the company.
Steve Andrezyk, Director of Marketing for Littelfuse-IXYS Integrated Circuits, said: "The CPC1561B output relay can survive harsh conditions and resume normal operation once the fault is removed, thus reducing product down time and potentially eliminating service call time as the SSR both protects itself and resets to resume normal operation."

The solid state relay can reduce equipment downtime and the cost of repair by utilising recovery with auto-reset capabilities to avoid system failures.
The CPC1561B is available in tape and reel format. Sample requests can be placed through authorised Littelfuse distributors worldwide.
View PDF