Features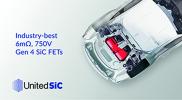 A New Approach to Circuit Breaker Design Using Silicon Carbide Switches - Nov 21
Mechanical circuit breakers can be low cost with minimal losses, but they operate slowly and wear out. Solid state versions overcome the problems and are becoming increasing viable as replacements at...
More details...
Power Electronics Europe News
Pre-driver IC has 120° sensorless commutation, says Toshiba
T
oshiba Electronics Europe says the main applications will be in industrial and automotive designing, including electric pumps for water, oil and fuel and electric fans.
The pre-driver can control BLDC motors using only a simple PWM input, without the need for any high-performance microcontrollers and software.

Two functions that are used for the first time by Toshiba stabilise motor control. An automatic duty generation function adjusts the output PWM duty cycle to suit the battery voltage at start-up and a soft speed changing function prevents stalling by suppressing sudden changes in the output PWM duty cycle.
The pre-driver IC is controlled by a hard-wired logic circuit and therefore does not need software development. VBAT over-voltage detection, VBAT under-voltage detection, over-current protection, and thermal shutdown circuits are included.
The operating temperature range is -40 to 125°C. The IC is packaged in a 7.8 x 7.6mm SSOP24 package.
View PDF