Features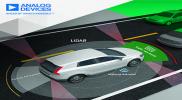 Powering the future of Autonomous driving - issue 4/2019
Analog Devices announced mid July a collaboration with First Sensor AG to develop products aimed at speeding the launch of autonomous sensing technology serving unmanned automotive, aerial and...
More details...
Linear voltage regulators operate at automotive temperatures
Designed for high reliability, high temperature applications, the CMT-Antares is Cissoid's latest regulator.
More details...
Power Electronics Europe News
Efficient Power Conversion (EPC) claims to reduce the size of cost of eGaN transistors while improving performance...
STMicroelectronics believes power supply designers can meet power and efficiency demands with the 900V MDmesh K5 MOSFETs....
Four, higher power DC/DC converters, operating from 200 to 425V DC, have been added to the PH-A280 series by TDK-Lambda....
The 16bit DAC8775 data converter helps shrink board space and design costs for industrial automation, says Texas Insttruments...
Three devices have been added to the GFET3 Integrated Power Switch (IPS) portfolio by Siliego Technology....
The AOZ5038QI integrates a dual gate driver and two optimized MOSFETs in a 31-pin 5.0 x 5.0mm QFN package....
N-channel MOSFETs from Toshiba Electronics Europe have been added to the U-MO IX-H series.https://toshiba.semicon-storage.com...
A 32-channel driver from Intersil has an integrated decoder that reduces the size of satellite command and telemetry systems....
Single, dual and quad operational amplifiers from Linear Technology extend its line of low noise, precision op amps...
Navitas Semiconductor announces what it believes is the industry's first integrated half-bridge GaN power IC....