Features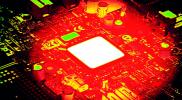 Integrated Battery-Charging Solution with Power Path Management - issue 5/2019
A new single coil power management IC with flexible configuration, rich functions and high efficiency integrates as many analog circuits as possible...
More details...
Linear voltage regulators operate at automotive temperatures
Designed for high reliability, high temperature applications, the CMT-Antares is Cissoid's latest regulator.
More details...
Power Electronics Europe News
Artesyn Embedded Technologies adds 72 models to its ERM family of DC/DC converter modules designed for railway rolling stock....
The EPC2046 GaN power transistor delivers 200V, 25mΩ in a small form factor, claims Efficient Power Conversion (EPC)....
TDK Corporation has introduced the iFB series of 557 to 600W rated DC/DC converters. ...
The CIPOS Mini intelligent power module (IPM) combines a single switch boost PFC stage and a three-phase inverter....
Isolated eight-brick converters offer 95% efficiency and 'leading' thermal performance at ambient temperatures, says Ericsson...
SiC Chips for Sintering...
For the first time, Trends in Lighting (TiL) will run in parallel to the seventh annual LED professional Symposium Expo...
Single output PQC power supplies from Murata Power Solutions, offer up to 95% power efficiency....
Zettler Electronics offers the mini AZ SR131 power relay, capable of switching up to 35A at 277V AC....
The ADF5356 is a 13.6GHz wideband synthesizer from Analog Devices that is integrated for reduced system size....