Features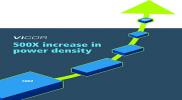 Innovating Power Module Packaging - April/May 21
A systemís power delivery network or PDN is made up of passive and active components such as cables, connectors, AC-DC and DC-DC converters and regulators. As power levels increase to enable new
More details...
Power Electronics Europe News
Low profile buck-boost regulator has six-sided shielding
Now available from Dengrove Electronic Components, the buck-boost controller is suitable for equipment such as USB voltage regenerators, 3.3 to 5.0V converters, and supercapacitor or Li-Ion battery regulators.
This non-isolated power module can supply up to 4.0A at 5.0V nominal output voltage, from an input that can range from 2.3 to 5.5V. It achieves up to 96% efficiency and will operate at full load in 85°C ambient temperature without forced-air cooling.
The converter measures 12.19 x 12.19mm, and is footprint compatible with the industry-standard DOSA, third-generation, high-density, non-isolated PICO converter specification. It is suitable for space-constrained designs, with a low profile of just 3.75mm.
External pins provide control and monitoring options, these include trim and sense pins that allow the output voltage to be trimmed over 1.0 and 5.5V by using external resistors. A mode pin selects powersave operation and there is a default, entering burst mode at loads under 350mA to reduce power consumption and extend battery life. Setting the mode pin low for permanent PWM operation prioritises accurate output-voltage regulation independently of the load current, advises the company. There is also a control pin for activating the device or selecting the 7.0µA standby mode. A power-good indicator provides status monitoring.
An evaluation board, RBB10-2.0-EVM-1, is also available. Resistors are provided on-board for trimming the output voltage and there are break out connectors for selecting operating modes. The board also features optimal thermal management and a class-B EMI filter layout.
View PDF