Features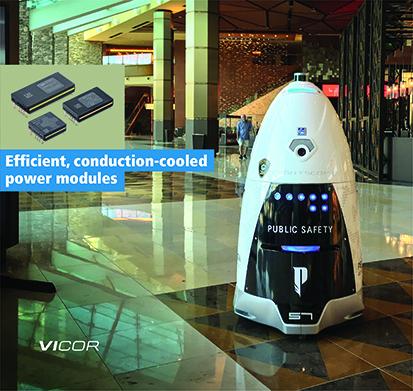 Knightscope's autonomous security robots patrol with superhuman acuity and detection prowess - May 2023
A fusion of innovative robotics, self-driving technology, vehicle electrification and artificial intelligence
More details...
AC/DC power factor correction module offers up to 1,512W
A full brick package developed by TDK-Lambda, the PF1500B-360, is for high voltage distributed power architectures
More details...
Power Electronics Europe News
To help design smaller motor systems in mild hybrid electric vehicles (MHEVs), Texas Instruments has developed the DRV3255-Q1...
ECPE offers in 2021 comprehensive Workshops and Tuttorials as well as the well known SiC/GaN Users Forum...
GaN chip for time-of-flight (ToF) lidar systems...
Space-saving LFPAK56D half-bridge offers 60 % lower parasitic inductance and improved thermal performance for power train, motor control and DC/DC applications...
GeneSiC Semiconductor's next-generation 1200 V SiC MOSFETs with offer on-resistance levels from 20 mΩ to 350 mΩ...
Nexperia will be making significant additional global investments in manufacturing capacity and research and development...
Yokogawa has added another new instrument to its ScopeCorder family of portable multi-channel data-acquisition recorders...
The compny adds six output programmable power supplies for testing automotive subsystems, including EV powertrains...
The MAX17852 battery monitor IC reduces space and cost for automotive battery management systems, says Maxim Integrated...
The TCKE712BNL is a resettable eFuse IC from Toshiba Electronics Europe, with adjustable over-voltage protection...