Features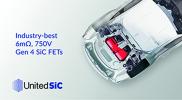 A New Approach to Circuit Breaker Design Using Silicon Carbide Switches - Nov 21
Mechanical circuit breakers can be low cost with minimal losses, but they operate slowly and wear out. Solid state versions overcome the problems and are becoming increasing viable as replacements at...
More details...
Power Electronics Europe News
Two USB-PD devices are certified for SmartHub devices and claimed to simplify and reduce the cost of USB Type-C PD charging...
The latest generation of Power Integrations' discharge ICs meet IEC60335 and reduce standby power for appliances....
Two Recom reference designs solve engineering challenges to meet EN 50121-3-2 EMC compliance and the UK RIA12 specification...
The XDPL8210 has a high power factor and primary-side regulation that has been added to the XDP portfolio...
The automotive-grade, 14-cell Li-ion battery management IC offers unmatched lifetime accuracy, claims Renesas Electronics...
The TB9062FNG pre-driver controls brushless direct current (BLDC) motors via a simple pulse-width modulation (PWM) input...
The Medical Versatile Power series meets the latest approvals, the safety IEC 60601-1 and EMC IEC 60601-1-2...
Dengrove Electronic Components now stocks the RLS series of surface mount line inductors that simplify EMC compliance ...
The 501 PGM-ST devices are available with rated voltages of 400, 450, and 500V and capacitance values from 1,000 to 18,000µF....
Gallium nitride-based AC/DC converter ICs have been added to the InnoSwitch3 family of offline CV/CC flyback switcher ICs....