Features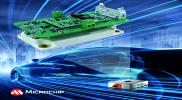 Evaluating Three Key Pieces of a SiC Total System Solution - October 2020
Following a rapid expansion of SiC product options, the industry's next challenge is simplifying the design-in process for end users. Power system developers need holistic solutions that address not...
More details...
Linear voltage regulators operate at automotive temperatures
Designed for high reliability, high temperature applications, the CMT-Antares is Cissoid's latest regulator.
More details...
Power Electronics Europe News
AC/DC power supplies have additional output to cover IoT and smart homes
The RAC series of low power 3.0 and 4.0W power supplies are now available with additional output voltages. The RAC03-G and RAC04-G were specially designed to supply modern smart homes as well as IoT systems, all of which require a high number of low power nodes, actuators and sensors to process information intelligently, says the company. It goes on to explain that designing energy efficient devices is not only about complying with the latest energy saving directives, but also about the needs of energy sensible systems.
The converters in both series are high efficiency and with no-load power consumption of only 75mW, making them suitable for energy-saving needed in smart systems. The supplies' 3.3, 5.0, 9.0, 12, 15 and 24V outputs to cover most required voltages. A universal input voltage range from 85 to 305V AC means they can be designed for worldwide mains requirements.
SGA versions are certified to EN60335 and SGB versions to EN55022 Class B without the need of any additional components. All modules are also certified to EN/UL62368 and come with a three-year warranty. Samples are available from all authorised distributors.
View PDF