Features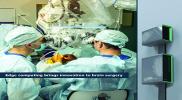 Edge Computing Leverages Modular Power in Scalable Micro Data Centres - May 2022
Edge computing is essential to realizing the full potential of artificial intelligence (AI), machine learning and internet of things (IoT). These technologies are being infused into every corner of...
More details...
Power Electronics Europe News
Housed in a five-pin SO5 package, the high-speed TLP2363 conforms to IEC 61131, says Toshiba Electronics Europe...
The MLSR192K-16A is a miniature surface-mount switching regulator from Micropower Direct. ...
Following a global distribution agreement with CML Microcircuits, Mouser Electronics offers the CMX901 and CMX902 ICs...
Recomís RAC04-K/277 4W AC/DC modules meet EU ErP for standby and off-mode in industrial and consumer products...
The EPC9144 board is equipped eGaN FET to drive lasers for time of flight (ToF) and flash lidar development....
Micropower Direct has released 41 standard models in the ML100E series of miniature, cost-efficient 1W converters....
GaN Systems and ON Semiconductor have developed a 300W adapter reference design for high power density adapters...
Diodes introduces drivers to drive single and multiple strings of internal and external LED lamps in vehicles...
The MAX22701E can improve power supply efficiency, reduce power loss and carbon footprint, says Maxim Integrated Products...
TDK-Lambda has introduced an interface option to the Genesys series of programmable DC power supplies. ...