Features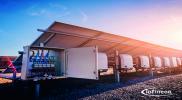 Benefits of CoolSiC MOSFETs in Bi-Directional Inverter Applications - July 2021
With the move to renewable energy, there is an increased focus not only on generation but also storage, to make the most of the intermittent supply from wind and solar. Batteries are the common...
More details...
Power Electronics Europe News
New LED driver family with eight new AEC-Q101 qualified devices from Nexperia...
Power Integrations announced at embedded world in Nuremberg the SiC MOSFET SIC1182K SCALE-iDriver ...
New Book on Semiconductor Power Devices: Physics, Characteristics, and Reliability...
The second generation 650V diodes from Littelfuse operate at high temperatures and have negligible reverse recovery current...
Miniature power supplies from Fidus Power can deliver 250W when conduction-cooled or 550W fan-cooled...
JEDEC Solid State Technology Association announces the publication of JEP173 - Dynamic On-Resistance Test Method Guidelines...
GaN IC company, Navitas Semiconductor, has signed a worldwide distribution agreement with Digi-Key for 24-hour availability...
Rohm Semiconductor has combined Qi standard wireless charging with NFC communication for automotive applications...
Completing the PH-A280 series of 50 to 300W power modules, TDK-Lambda adds the PH300A280-5 DC/DC converter....
The ME300RU series of miniature DC/DC converters from MicroPower Direct is made up of 21 standard models...