Features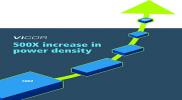 Innovating Power Module Packaging - April/May 21
A systemís power delivery network or PDN is made up of passive and active components such as cables, connectors, AC-DC and DC-DC converters and regulators. As power levels increase to enable new
More details...
Power Electronics Europe News
SiC MOSFET meets EV and HEV requirements
The 1Ω MOSFET e

nables high-frequency, high-efficiency power control applications such as electric and hybrid vehicles (EVs and HEVs), data centres, and auxiliary power supplies.
The MOSFET has been added to the company's existing range of 1200V SiC MOSFETS and Schottky diodes. The company points out that the high-efficiency benefits powered by SiC MOSFET technologies offer advantages to demanding applications. According to the company, the 1700V SiC MOSFET enables system level optimisation, including increased efficiency, increased power density, decreased cooling requirements, and potentially lower system level costs, compared to similarly-rated Si IGBTs.
Compared to traditional Si-based power transistor devices, the MOSFET also enables it to better its Si MOSFET counterparts in terms of blocking voltage, specific on resistance, and junction capacitances, adds the company.
The SiC MOSFETs can be used in solar inverters, switch-mode and uninterruptible power supplies, motor drives, high voltage DC/DC converters and induction heating in both existing and new design projects.
The 1700V SiC MOSFETs are available in a TO-247-3L package.
View PDF