Features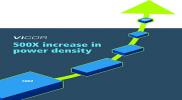 Innovating Power Module Packaging - April/May 21
A systemís power delivery network or PDN is made up of passive and active components such as cables, connectors, AC-DC and DC-DC converters and regulators. As power levels increase to enable new
More details...
Power Electronics Europe News
TVS diode is AEC-Q101-qualified for compact protection
The diodes protect sensitive automotive circuitry from a higher level of voltage transients induced by lightning and other transient voltage events. They increase expand the series' breakdown voltage range from 7.5 to 550V for uni-directional and 10 to 650V for bi-directional devices.
These AEC-Q101 qualified TVS diodes provide 600W of peak pulse power dissipation in a standard DO-214AA SMB package, a popular form factor for automotive applications. It is not necessary to use multiple TVS diodes in series to provide adequate protection, which simplifies PCB design and enhances reliability, claims the company.
Typical applications for the additions to the TPSMB series include IGBT active clamping in HVAC systems, converter/inverter systems for electric vehicles (EVs), series battery protection in automotive battery management systems (BMS), Xenon headlamp ignitors (for bi-directional parts), electronic control units (ECUs), automotive sensors, BCMs/LIN bus/CAN bus and on-board entertainment systems.
The automotive TVS diodes are available in DO-214AA SMB packages in tape and reel format through authorised Littelfuse distributors.
View PDF