Features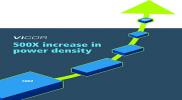 Innovating Power Module Packaging - April/May 21
A systemís power delivery network or PDN is made up of passive and active components such as cables, connectors, AC-DC and DC-DC converters and regulators. As power levels increase to enable new
More details...
Power Electronics Europe News
Magnetic sensor ICs extend battery life
The APS11700 and APS11760 are designed specifically for battery powered applications in harsh industrial and automotive environments. Automatic power management enables average supply current down to 6µA while operating directly from a vehicle battery or other unregulated supply. The power management happens in the background and is transparent to the host system, making the ICs a drop-in upgrade for existing Hall-effect switches or a solid-state replacement for mechanical microswitches or reed switches.
The ICs' ruggedness and low power characteristics combine a reliable, solid-state upgrade for reed and microswitches, even in power-sensitive applications where the sensor will be connected directly to the battery.
The monolithic devices include either a standard Hall plate or a vertical Hall plate, a small-signal amplifier, chopper stabilisation, a Schmitt trigger, automatic power management controller, and an NMOS output transistor.
The APS11700 uses a standard planar Hall-effect sensing element, while the APS11760 implements AVHT technology in the form of a silicon-based vertical Hall-effect sensing element, making them sensitive to magnetic flux parallel to the face of the IC package. The technology mimicks the in-plane sensitivity of common reed switches, says the company.
The devices are pre-configured with the user's choice of magnetic sensitivity, thresholds, and polarity. There is a choice of active-high or active-low output for ease of integration into electronic subsystems. They are qualified to AEC-Q100 Grade 0 and are compliant with ISO 26262:2011 ASIL A when properly applied, for automotive and other safety systems, such as open/close latch sensors, as well as intelligent motion applications such as robotics and vending machines. They can tolerate up to 40V and junction temperature up to 165°C. They are internally protected against over-voltage, reverse-battery, load-dump, output short-circuits, human-body-model ESD up to ±11kV, and other EMC conditions.
Two package styles are available, the LH package is a SOT-23W style, miniature, low-profile package for surface-mount applications and the UA is a three-pin, mini, single inline package (SIP) for through-hole mounting. Both packages are lead (Pb) free, with 100% matt-tin leadframe plating.
View PDF